Latest News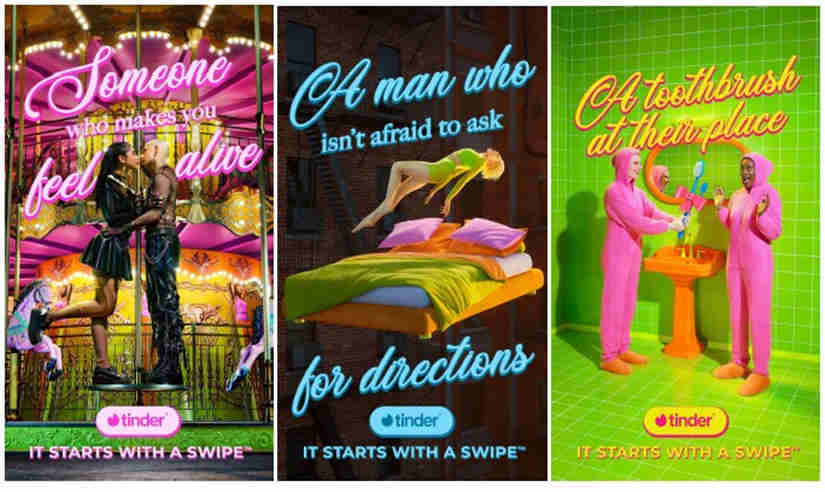 Tinder has launched a new global brand campaign in Australia called "It Starts With A Swipe" in collaboration with local agencies Akcelo, Thrive PR, Alley and Amplify. The campaign aims to correct the perception of modern dating apps, specifically that of Tinder, which has been viewed as a "hook-up" site. According to Melissa Hobley, global chief marketing officer of Tinder, the perception gap was due to the brand not clearly defining itself, leading people to develop their own assumptions. Despite 31% of Gen Z members using Tinder to find long-term relationships, the brand has been associated with casual dating. The campaign's aim is to show the diversity of dating possibilities available on the app, especially for Gen Z users who seek connections differently than previous generations.
Hobley noted that she wanted to bring out what makes Tinder special and highlight the diversity of possibilities and people on the app. The campaign features imagery shot by French artist Pol Kurucz, with bright colours and scenes resembling "modern day fairy tales" that depict the modern dating journey in a diverse way. The aim is to show that connecting on Tinder is like diving into someone else's universe, and the campaign represents an immersion into the colourful and diverse worlds of couples who have found each other on Tinder. The visual allegory of the campaign represents the infinite possibilities that a match can create, conveying the depth and intensity of relationships with a cocktail of unusual chromatic combinations, vibrant colours, contrast and pop aesthetics.
The creative not only celebrates diversity in terms of possibilities but also gender, orientation and multiculturalism, as campaign executions are produced with a diverse cast and crew. Hobley believes that Tinder, as the largest dating app in the world, has a responsibility to keep chipping away at stigma, homophobia, transphobia and to make it easier for non-binary folks to talk about dating, sex and relationships. The brand aims to say that whatever a user is looking for is great, and whoever they are is also great, and Tinder is here to support them.
According to Bianca Guimaraes, partner and ECD at Mischief, Tinder's challenge is more than just a change of brand perception, it's a change of dating perception. While Tinder has made it easy and fun for members to meet up for over ten years, some people have grown cynical about online dating, leading to a new generation of people who aren't jaded by dating, nor do they define dating the same way. The opportunity for Tinder is to communicate the infinite possibilities that exist on the app that can lead to a one-time vibe or a long-term relationship.
The campaign will roll out on social media platforms such as TikTok, Snapchat, YouTube and Instagram, as well as out-of-home (OOH) advertising in large format rail and tram, street furniture and street posters.