Latest News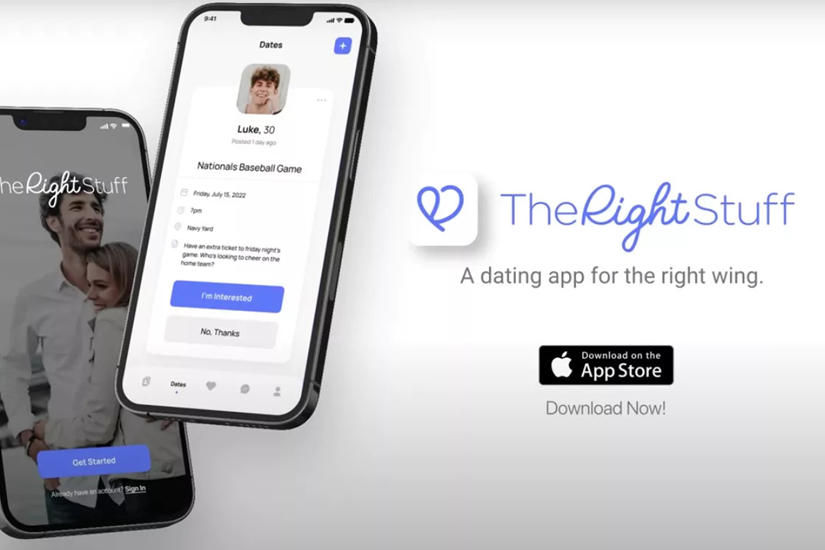 The Right Stuff
A new conservative dating app called THE RIGHT STUFF recently debuted in the United States. The app was reportedly developed "to unite conservatives in true and meaningful ways."
It promises to link individuals with their similar interests and shared beliefs, ensuring that the users can "browse profiles without pronouns" and can "connect with people who are not offended by everything."
As you might expect, the app attracted rapid notice and controversy for a number of reasons:
First, and most significantly, there do not seem to be any female users. Considering that the app mainly caters to heterosexual users, this is problematic.
The second, former Trump aide John McEntee was a co-founder of the app. The app's spokesman is Ryann McEnany, sister of Kayleigh McEnany, a former press secretary for the White House. The right-wing billionaire as well as PayPal co-founder Peter Thiel is providing financial support for the app.
Audiences have also expressed some disdain toward the app's advertisements. Women are questioned, "What are they looking for in a man?"
They reply and said that they are searching for a man with an "alpha male vibe," a man who is self-sufficient and family-oriented.
In the ads, ladies were also questioned about the "greatest red flag" in a possible spouse. They all said that they could not date Democrats.
APPS FOR DATING AND POLITICS
This is hardly the first dating app to combine politics, intimacy, as well as technology.
In 2016, Bumble introduced its line of political digital "bumper stickers," which included images of Trump, Hillary Clinton, Bernie Sanders, and Ted Cruz. Later revisions that reflected the climate took their place.
You can currently post on Bumble whether you participated in the mid-term elections by voting or not. "Political beliefs are more than simply current subjects, often entire value sets can be related to political ideas. It informs you a lot about a person," said Whitey Wolfe Herd, the founder, and CEO of Bumble.
Prior to the presidential election in the year 2020, OkCupid launched its "Voters Make Better Lovers" campaign.
The business claimed in a news release that "practicing your right to vote is the biggest turn-on to OkCupid singles today."
Melissa Hobley, OkCupid's former chief marketing officer, claimed in 2020 that the app's users were increasingly choosing matches based on shared values, with a political preference as well as environmental ideologies taking a prominent place in the mix.
Women would rapidly ghost mates who made racist, sexist, or overtly sexualized statements in conversation or on their profile, according to research on dating apps and intimacy.
Not POPULAR WITH WOMEN
The majority of user reviews and media reports have pointed out a paucity of women on The Right Stuff. (The Right Stuff spokespersons have yet to confirm this.)
Consider the following user complaint: "These days, it's hard to find a woman who values my patriotism. My faith. And so after being ghosted by every match on Tinder, I decided to give this app a try. ... But the weird thing was, I couldn't find any women on it. I don't know, maybe the app is bugged?"
Dating applications serve as more than just a venue for romantic connections. Apps are a developing platform for gender and politics, as Lik Sam Chan, an assistant professor at the Chinese University of Hong Kong, examines in his research. These areas might offer chances for both men and women.
Related Reading: Ten dating profile mistakes that turn women off.
Online spaces, including dating apps, can also be seen as digitally mediated "sites of struggle over the meaning of [our] experience", according to Australian professor Martin Nakata.
Dating apps are comparatively new platforms for encounters mediated by culture and politics. They are becoming the new digital interface for negotiating politics as well as gender.
The Right Stuff's debut certainly tends to imply the significance of political orientation for women wishing to date as well as shows that many American women do indeed consider the right-wing values to be "the wrong stuff."