Latest News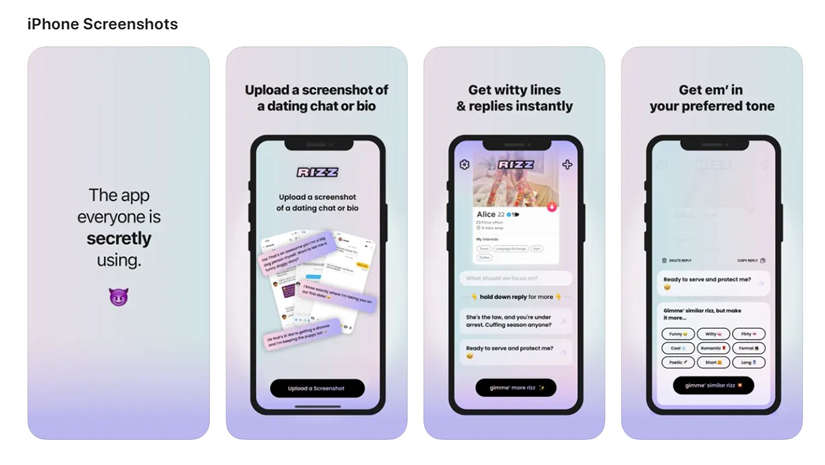 The world of dating is being transformed by artificial intelligence (AI). With dating apps now one of the primary ways people find romantic connections, a number of start-ups are trying to optimize and automate the online dating experience. However, while some apps are designed to make the process easier, others are leaving users frustrated and confused.
One of these is Rizz(iOS), an AI dating tool designed to help users come up with killer opening lines and responses to potential matches. However, some users have reported that the app's AI generates strange and often outright false messages. For example, when one woman presented a humorous date idea on Hinge with the phrase "Steal the Declaration of Independence," Rizz's AI tool generated the response, "As much as I'd like to see the Declaration of Independence, I think that's a little excessive." Another woman's profile mentioned she knew the best spot in town for birria tacos. Rizz's AI generated the response, "I'm glad to hear you're enjoying the birria tacos in town! It sounds like you're really taking the time to figure out your dating goals and that's great! I'm sure you'll find the right person for you soon!" Coyne Lloyd, a 35-year-old tech investor, tried Rizz out of curiosity but ultimately found it "hilariously bad, again and again."
Despite its shortcomings, Rizz has gone viral on TikTok and Twitter and now has more than 130,000 users. The app was founded by four college students: Charis Zhang, Oliver Johansson, Tobias Worledge, and Daniel He, all computer science majors who experienced the pain of not fully knowing how to converse with people. They developed Rizz as a way to help users break the ice with potential matches.
However, one of the biggest challenges the team has faced is trying to decipher inputs from users who aren't used to writing proper AI prompts. This could explain why Rizz gave Lloyd such nonsensical answers. Zhang admits that the app is still a work in progress and that they're working to improve it.
The use of AI in dating is a growing trend. Some apps use AI to analyze users' preferences and behaviors to help them find the right matches. For example, Tinder uses a machine learning algorithm that takes into account the user's swipes and the swipes of others to suggest potential matches. Bumble uses AI to detect and remove fake profiles, while Hinge uses AI to provide users with conversation prompts.
However, there are concerns that the use of AI in dating could have negative consequences. For example, there's the risk of bias in AI algorithms, which could perpetuate discrimination and stereotypes. There's also the possibility that people could become too reliant on AI to make decisions for them, leading to a loss of agency and control.
Despite these concerns, the use of AI in dating is likely to continue to grow. As the world becomes more automated, people are looking for ways to make their lives easier, and AI offers a way to do that. However, it's important that developers of these apps take care to ensure that their algorithms are unbiased and that they don't take away people's agency or perpetuate harmful stereotypes. Ultimately, while AI can help people find romantic connections, it's important to remember that dating is a deeply personal and human experience that can't be fully automated.