Success Stories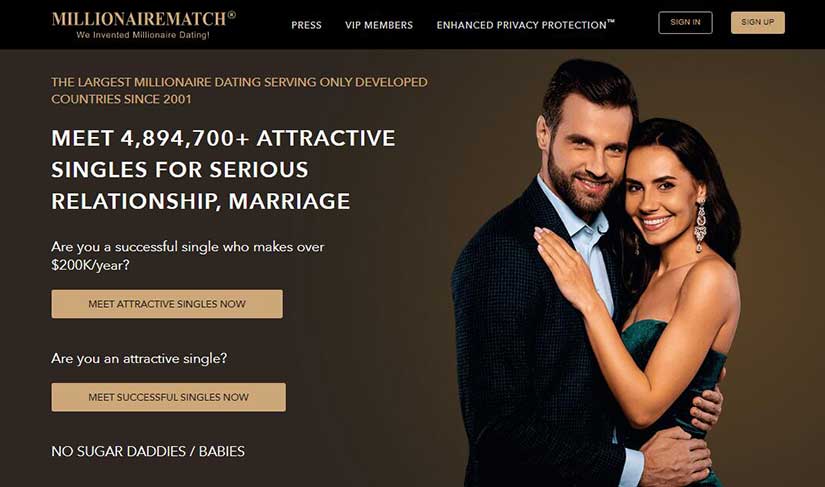 MillionaireMatch Homepage
MillionaireMatch is an elite club, the largest and high-quality millionaire dating site. Do you want to meet someone just as successful as you? Do you want to date a millionaire? Then MillionaireMatch was designed with you in mind.
I met the most important wonderful person and we are in engaged.
April 7, 2021
I have found someone here. We talk for a few days abs then I went to see him. Thank you I met the most important wonderful person and we are in engaged.
I found the most amazing girl!
April 6, 2021
We corresponded about one week before meeting. We clicked right away and exchanged numbers to talk on the phone to hear each other voices and to get an idea of our personalities... she lives 3 hours away from me and we decided to have our first date after talking for one week. Our first date went couldn't have gone any better and we decided to go on mother date the next day... we spent the whole day together talking and walking around Washington DC and then had an amazing dinner. Our first date turned into 3 dates... she came to my home town the very next week for 4 days and we decided that we would both cancel our memberships after only being on the site for less than a week. I am proud to say we are officially dating exclusively and I know she is the one who I plan to spend the rest of my life with.
Here we are happily ever after, again!
March 27, 2021
We corresponded for about a week before we met in Las Vegas. She was from Arizona and I was from New York. During our trip to Vegas we knew that it was meant to be. We meant after only a week of talking. We both had been through a lot in life and we just cut to the chase and we didn't go through the normal masking of reality that people often do. We were real from the beginning which meant that we stayed in the same hotel room and used the same bathroom. We were honest about everything with the attitude that we were going to be 100% honest and up front about everything. We got married about 4 weeks later and it couldn't be more perfect. We are best friends! Her and her daughter moved to NY and are working through a blended family of 3 daughters. My wife and I both said we would NEVER get married again and didn't want to get married again. But here we are happily ever after, again!
Absolutely Remarkable
March 15, 2021
The story is too young and too early to share yet. We are long distance at this point. But Zoom and text causes us to learn to communicate very well. Counting the days until we get to meet. Ask me in 6 months about the story!!
Hello, I am in a relationship that I found via MM, thank you!
March 8, 2021
A pretty simple boy - girl story. Met via MM, first date in a restaurant for lunch, long drive after lunch (good vibes from the moment of eyes-on), and steady dating (or whatever you would call it in one's 60s). I don't believe we had much preliminary correspondence before just deciding to meet. Your service does an excellent job of vetting people, and having their answers to FAQs all laid out on the web page/site, so inspires a high degree of confidence. I have recommended MM to many others and will continue to do so. Cheers!
When it works it works
March 5, 2021
Going from a wink to a wedding a de candy Tanya is amazing I can't wait to marry her and be together for the rest of our lives. Love her with all my heart
I have found someone on MillionaireMatch.com
March 2, 2021
MET AND OFF THE MARKET and don't need to be on anymore please delete we are currently dating and happy please delete me account, thank you for everything I'm happy
Visit Site
Get Android App