Reviews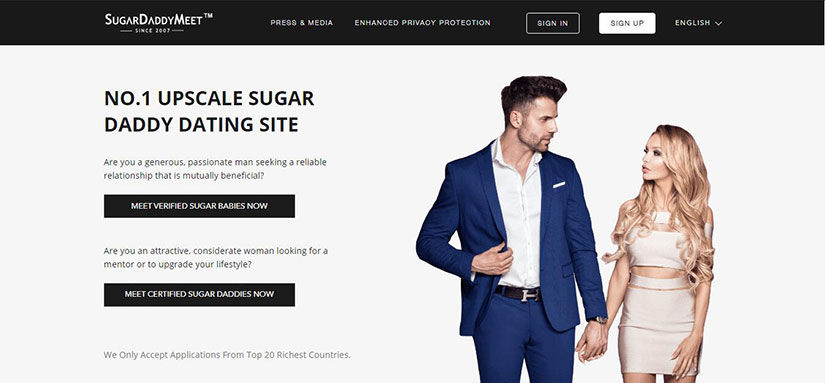 Sugar Daddy Meet Homepage
Overview
Category: Dating site for sugar relationship - Where young women in need of financial and wealth men find mutually benefit.
Area: The top 20 richest countries.
Members: Over 5.2 million, male 19%, female 71%. More than 82% of the members are from the United States, Canada, Australia, New Zealand, and the United Kingdom.
Price: In comparison to other providers SugarDaddyMeet is average.
Age: 18+
Others: No sugar momma or gay sugar daddy. Offers a mobile-friendly version for Android & iOS users.
SugarDaddyMeet Sign-Up Process: only takes as little as 3 minutes.
Step 1: Agree to the Guidelines, the Service Agreement and the Privacy Policy, then create your profile. You need to choose your Country, Annual Income, Height Body Type Ethnicity, etc.
Step 2: Upload a photo.
Step 3: Talk about you and your match.
Step 2 can be skipped, and the things written in Step 3 can be changed at any time.
Note: The higher profile quality, the more views you can get.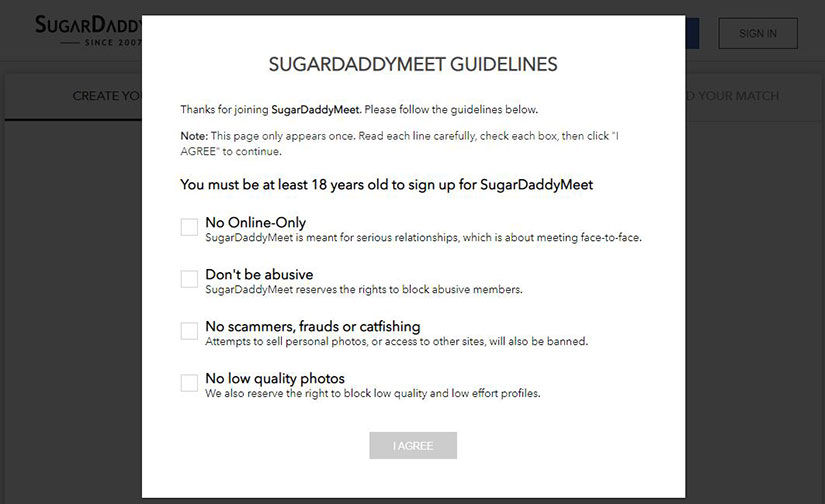 SugarDaddyMeet sign up
Special Features
Spark: Show you photos of the member you may like according to SugarDaddyMeet's algorithm. You can choose "Like" or "Skip". If the member likes you too, it's a match!
Search: You can search for members you may be interested in based on gender, age, location, etc.
Blog: You can share what you want to share or ask questions. Other members can read & comment on your posts, and give you a like.
Certified & Photo Verified: Every member can upload a readable copy of clear ID to get photo verified. Sugar daddy can upload any documents which prove net assets are over US $1 million to get income certified. Then, you will get two badges "Photo Verified" & "CERTIFIED SUGAR DADDY", which can increase chances to be recommended to others and receive more recommendations of verified members.
First Date Ideas: Members post their first date ideas here. You can comment on these ideas, give a like, or try an idea with someone.
First Date Gift: Propose a first date gift which will make you stand out and get that first date!
Gift Wishlist: Sugar baby can choose the items they want in the gift wishlist. Sugar daddy can learn about the sugar baby through her gift wishlist.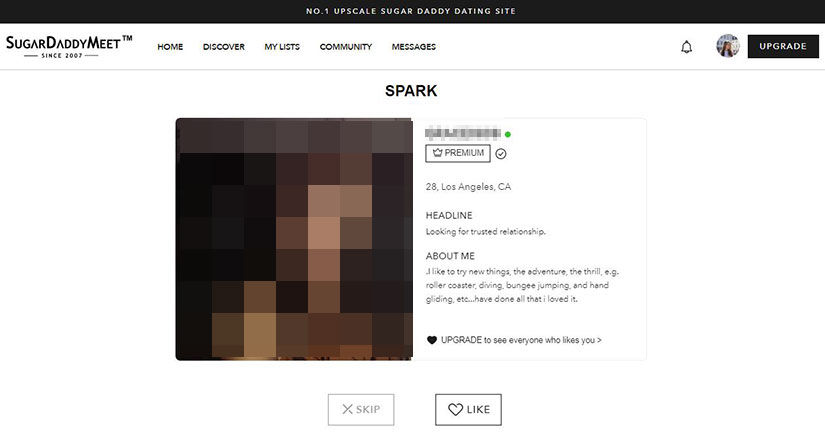 SugarDaddyMeet Spark
Price
Premium Membership Fee
50 USD for 1 Month
90 USD for 3 Months (30 USD per Month)
144 USD for 6 Months (24 USD per Month)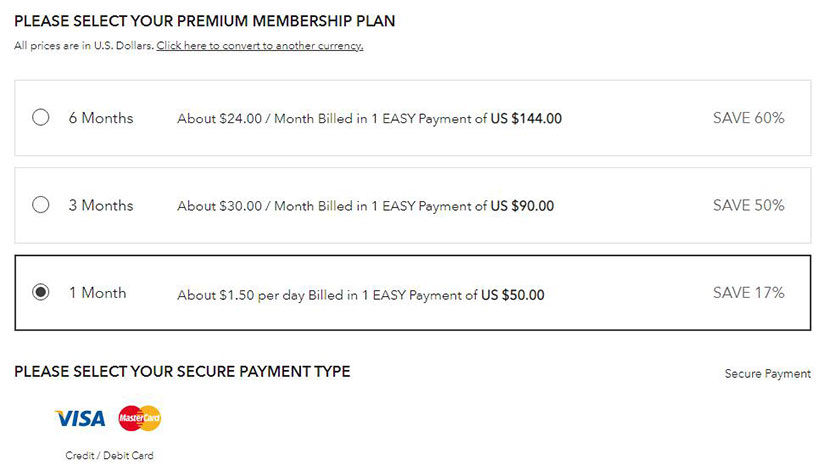 SugarDaddyMeet Upgrade
Free Features
Registration and profile creation
Basic Search Function
Access to Spark Feature
Send up to 50 winks a day
Upload up to 26 photos
Browse matches by location
Respond to messages by premium users
Request access to private album
Add to favorites list
Like photos or comments
Edit blog and forum messages
Commenting on profiles, blogs, photos, and forums
Fee based Features
Use of advanced search filters
Browse anonymously
See complete profiles
View full-sized photos and full-length videos
Browse your compatible matches
Initiate and reply to messages
Show up at the very top in searches
See last login details of users
Check if sent mail is read on site
Check how often a user replies to messages
Highlight listing in search/browse results
Get highlighted as a featured member
Manage profile/photo privacy setting
View "Who likes you"
Customer Service
Help / FAQ pages & 24/7 support via phone or live chat.
Infos
Company: SuccessfulMatch
Address: 10 - 8707 Dufferin St, Suite 160, Vaughan, Ontario L4J 0A6, Canada
E-Mail: support@sugardaddymeet.com
Phone-Hotline: 1-416-628-1072
Pros and Cons
Pros:
Since 2007, Over 5M Members Who are from Developed Countries
Big dating pool, 4.4 million sugar babes & 1 million sugar daddies
No advertising on the site
Photos & Income Verified Strictly
Singles are more experienced and know exactly what they want
Site screens users to prevent scam
Multiple ways to connect to other users
24/7 support via phone or live chat
Facebook sign-in
Privacy features help you remain discreet
Special features suitable for frequent travelers
Profiles are manually moderated to prevent abuse
Standard Members can reply to messages initiated by other PREMIUM MEMBERS for free
Cons:
Premium membership may be too pricey for sugar babies
Non-paying members use very limited search
Have to pay for the best features
Somewhat outdated design
Only paid members can message first
Some may prefer a more manual approach
SugarDaddyMeet FAQ
SugarDaddyMeet Refund Policy
You have the right to cancel your subscription, without any penalty or obligation. For any full / prorated refund inquiry within a reasonable time frame or if you wish to make changes to your premium membership please contact customer service 1-416-628-1072 or email support@sugardaddymeet.com.
What does "Verify" and "Certify" mean at SugarDaddyMeet?
It means proving your identity by uploading a readable and clear copy of your photo ID (driver's license, State ID card, passport) or other related material. By verifying your information you are showing members you are real and serious about finding a match or friends.
Sugar daddies upload income proof to get the "CERTIFIED SUGAR DADDY" Badge on your profile. You will be listed above others in search results, & be listed on the "CERTIFIED SUGAR DADDY" page, and increase chances to be recommended to others and receive more recommendations of verified members.
SugarDaddyMeet announces that it does not disclose, sell or rent any personal, identifiable information to any third party organizations. All information provided is kept confidential.
Why was my SugarDaddyMeet subscription automatically renewed and how do I turn ON / OFF auto subscription / auto billing / auto renewal?
You can find "Subscription status" page by clicking on "Membership" under "Settings". Then hit the link "To stop PREMIUM MEMBERSHIP, click here", enter your password, and hit the "Continue Cancellation" button to stop the auto-renewal. 3 and 6 Months packages do not renew.
What should I do if I forgot my SugarDaddyMeet email address / password?
Just click Forgot Password at the login screen. Enter either your registered email address or a valid one. SugarDaddyMeet will then send you a password reset link to your registered email address, usually within a few minutes. If you don't receive it, please make sure to check your spam/junk folder. This link will work for 24 hours only.
If you forgot your email address, you can click Forgot email and send a feedback. To help SugarDaddyMeet find your account, make sure to include in your message your full name, email address, along with a description of what happens when you try to sign in, including any error messages.
Is SugarDaddyMeet a legit dating site, and who owns SugarDaddyMeet?
Yes, SugarDaddyMeet is a legit dating site, and SugarDaddyMeet is owned by SuccessfulMatch, a company that's also known for operating niche dating sites.
What does "This user is currently Unavailable / Disabled their account" mean?
If you click on another member's profile and see a message that the profile is unavailable, it is usually because that member has chosen to take a break to pursue a relationship, or for other reasons has chosen to hide their profile. Occasionally members are removed suddenly due to security violations that result in their removal from the site.
How do I delete my profile?
To cancel, click on "Settings" under your main photo icon in the upper right corner of the top bar. Choose "Membership", then click on the "DISABLE ACCOUNT" tab and select DELETE ACCOUNT. Then enter your password and hit the "DELETE ACCOUNT" button.
How do I reactivate my account?
Log-in to the site using your email address and password then click on the "Reactivate" button. You will then receive a confirmation email after it's successful. Keep in mind that all reactivated profiles will be reviewed and approved by customer service before being posted. If you have any problems, email support@sugardaddymeet.com.
Why am I not getting very many / any responses?
If you don't have a photo, add one. This is the fastest and easiest thing you can do to increase your responses. Statistics prove that profiles with photos are up to 20 times more likely to receive attention than profiles without. And recommend making a lot of initial contact attempts. It may also help to expand your search criteria in order to find more prospective matches. Be sure and take advantage of the custom search features of the site and experiment with different search parameters.
If you're not receiving any responses at all, be sure you're checking for responses at the email address you used to sign up. It could be that your responses are simply landing at a different email address. If you are looking at the right address, also check whether you might have a Spam filter that's catching your SugarDaddyMeet messages. Check with your email provider about how to add SugarDaddyMeet.com as a trusted sender.
What's the difference between Hiding and Blocking a member? How do I block or unblock a member?
Hide from search: You won't see this user in search results page. They'll still be able to see your profile and be able to communicate with you.
Block: You will no longer receive any communication from this user. This user will also be blocked from viewing your profile, and commenting on any blogs you've posted.
To block communication for a specific user, click the "..." button in the upper right corner of their profile to select the "Block" button. To block hidden members, please click on "Settings" under your main photo icon in the upper right corner of the top bar and click "Blocking" in the left sidebar on "Settings" page, click "block" after you enter the username. Or you can block a specific user on message window by clicking the "MORE OPTIONS" in the upper right corner. You will no longer receive communication from this user. This user will also be blocked from viewing your profile, and commenting on any blogs you've posted. When you block a member, the member will not be notified.
If you need to unblock someone you have previously blocked, please click on "Settings" under your main photo icon in the upper right corner of the top bar and click "Blocking" in the left sidebar on "Settings" page. You'll be able to find all users you've blocked there.